Continuing on with my blog challenge, today's topic is:
Share either your favorite fall craft or autumn recipe. Or share what you're eying on Pinterest.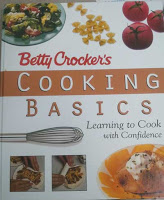 I love, love, love cookbooks. Mostly for the amazing pictures of food. The cook books that I look at over and over again are the ones with pictures for every recipe. One of my most used cookbooks is Betty Crock Cooking Basics.
This Chili recipe is one that I make over and over again, nearly year-round. Before I moved back to Oregon, I kept my cabinets stocked with the basics for this recipe because it was easy to make and easy to remember how to make without pulling out my recipe book. It is also the only recipe that I have ever just sort of "winged" and not followed to the letter each time.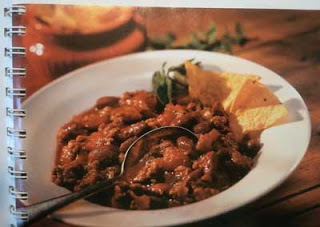 Chili
Makes 4 servings • Cook: 1 hour 20 minutes
(I put it in the crock pot on high for 4-6 hours)
INGREDIENTS
Essential Equipment: 3-quart saucepan or 12-inch skillet with high side.
1 large onion
2 cloves garlic
1 pound ground beef
1 tablespoon chili powder
2 teaspoons fresh chopped or 1 teaspoon dried oregano leaves
1 teaspoon ground cumin
1/2 teaspoon salt
1/2 teaspoon red pepper sauce
1 can (16 ounces) whole tomatoes, undrained
1can (15 to 16 ounces) red kidney beans, undrained
Heidi's modifications:
• I put in extra beans. I usually do 1 can of red kidney, 1 can of black beans and 1 can an additional bean of my choice. I drain the black beans only.
• For the canned tomatoes, I usually go with a diced type with some sort of flavoring like a Basil, Garlic and Oregano to add some different flavors to the Chili.
• I tend to skip the cloves of garlic and just toss in some Garlic Garlic (Tastefully Simple®) or just plain Garlic Salt.
• I usually skip the pepper sauce and put in red pepper flakes.
• If I have left over spaghetti sauce hanging out in the fridge, I toss it in.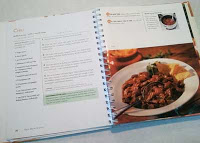 DIRECTIONS
1. Peel and chop the onion. Peel and crush the garlic.
2. Cook the beef, onion and garlic in the saucepan over medium heat 8 to 10 minutes, stirring occasionally, until beef is brown; drain.
3. Stir in the chili powder, oregano, cumin, salt, pepper sauce and tomatoes with their liquid, breaking up the tomatoes with a spoon or fork.
4. Heat the mixture to boiling over high heat. Once mixture is boiling, reduce heat just enough so mixture bubbles gently. Cover and cook 1 hour, stirring occasionally. (or toss everything into a crock pot, set to high, cover and cook for 4-6 hours; skip step 5)
5. Stir in the beans with their liquid. Heat to boiling over high heat. Once mixture is boiling, reduce heat just enough so mixture bubbles gently. Cook uncovered about 20 minutes, stirring occasionally, until desired thickness.
1 SERVING: Calories 350 (Calories from Fat 155); Fat 17g (Saturated 7g); Cholesterol 65mg; Sodium 90mg; Carbohydrate 27g (Dietary Fiber 7g); Protein 29g
What is your favorite fall dish?