Quick Snacking for a Single Gal's Busy Life
|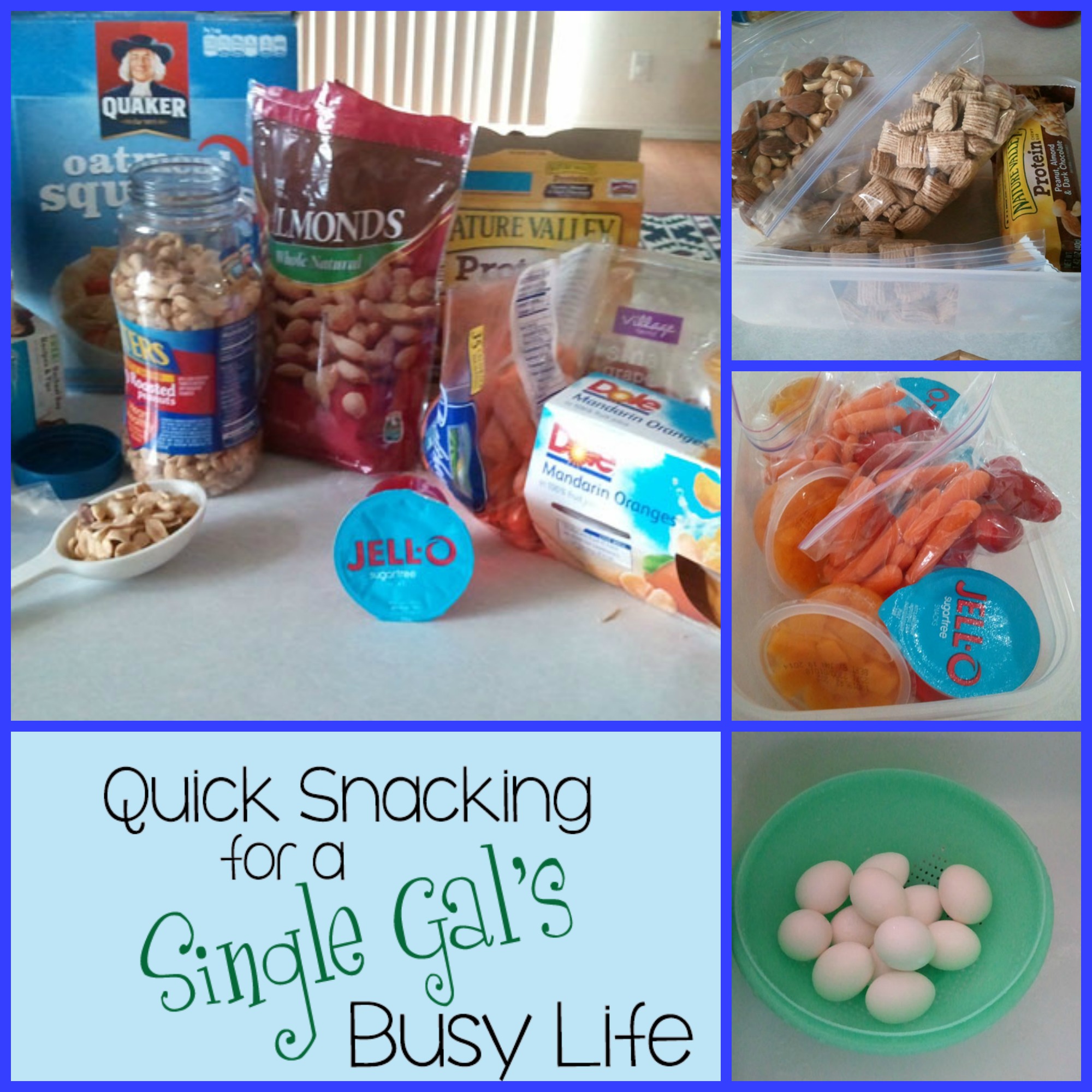 For so many of my married with children friends, the fall can be a crazy time of year. The transition of a child's carefree summer schedule into a structured school agenda can make a mess of any household. But that sort of chaos is not exclusive to a household of children.
I do not have children however the fall is a busy time of year for me. Between my full-time job, my freelance job and helping out with my niece on occasion, and trying to have a life, I also keep score book for the high school volleyball team. For eight weeks my life feels a little like a mad dash. Which can mean poor eating habits and bad food choices. I should mention that this issue is not exclusive to volleyball season but it is the time when I am the worst about food.
This year I thought I would try something new. Granted this is only my second year doing the books but I remember how last year went and anything would be an improvement.
Last year my habit was to pack a few little food snacks and some water. Allowing myself a hot dog and a candy bar at nearly every game. Then if it was an away game, the bus usually would stop somewhere before the drive home, which was another chance at bad food.
On away game days, I typically have anywhere from 30-60 minutes from when I finish work till when I need to be getting on the bus for an away game; occasionally it is less time than that. And on Saturdays, early in the season, it is an all day trip to a tournament. My food packing plan needed to be quick, efficient and effortless. I had recently glanced at something on Pinterest about putting together some healthy, quick grab snacks for kids after school and thought that might be a solution that could work for me.
I organized just for a single week so that I could change things up if I didn't like what I had selected for food. Plus each week is different, some have more home games that away games so I didn't want the fresh food to go bad. I put together one "cold" set of snacks and another of "dry" snacks.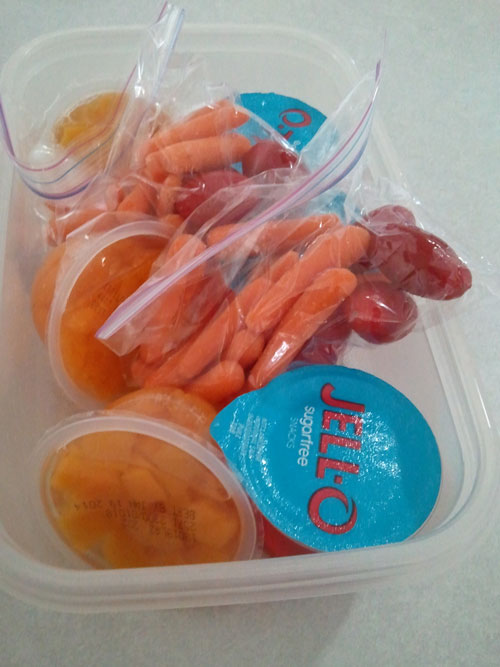 Cold Snacks
Pick stuff that you know you'll like. I went with grape tomatoes and carrots for my veggie snacks. I typically just eat them plain but today I came across some guacamole dipping snack packs that I can pack as well. For fruit I have a variety of peaches, pears and mandarin orange snack cups. Then I wanted something else and was going to go with pudding cups but opted for sugar free strawberry jello instead. I prepared several snack size baggies of tomatoes/carrots and placed them in a plastic dish with the as many fruit cups and jellos as I would need for the week and stored them in the fridge.
When it came time to head to a game, I didn't have to dig around for what I needed. I had also boiled up a dozen eggs so I had a quick protein snack for between work and games.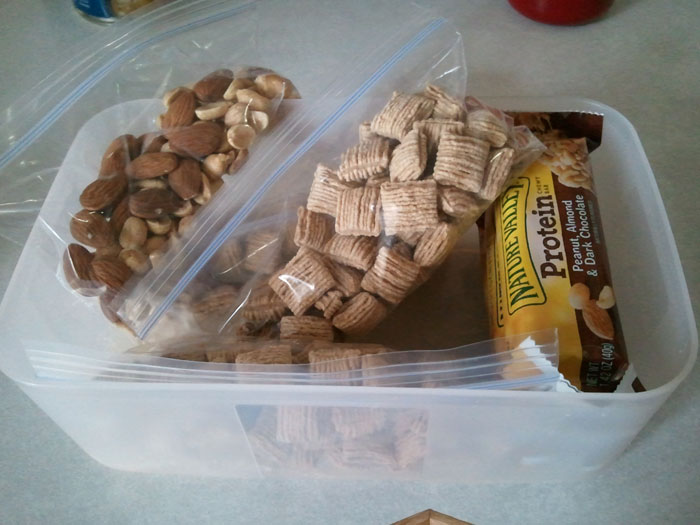 Dry Snacks
For my dry snacks I went with baggies filled with a mix of dry roasted peanuts and raw almonds. These are perfect to snack on while keeping score book. I also filled baggies with a Quaker Oatmeal Squares cereal to help satisfy my sweet tooth. Several years ago I had purchased some serving spoons that were sized for portion control. They have come in very handy and I used the 1/4 cup spoon to measure out the dry stuff for the baggies. I placed my prefilled baggies in another plastic container along with my protein granola bars.
Grab and Go
This all worked really well for this first week of games. We have an all day tournament tomorrow and I will be very glad I have food on hand to keep me from over visiting the concessions stand.
So what tricks do you have for quick, healthy snacks on the go?