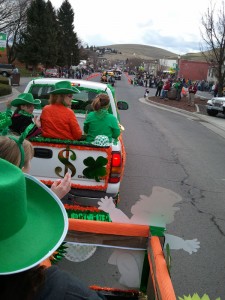 Today was the annual Saint Patrick's Day celebration in Heppner and it made for a very fun small town Saturday. Last night they had a boxing match called a "Smoker" defined as the informal name given to an illegally staged and unregulated boxing show of the early to mid-1900s.
The day had many festivities scheduled. In the morning was a 5k walk/run fundraiser. There were also sheep dog trials taking place just outside of town. I didn't go watch but would like to catch it sometime. The big parade started at 1 p.m., I rode on the Bank of Eastern Oregon float because my sister is an employee. My niece and her friend joined us. My sister and I were placed in the back of the float and our job was to keep the candy bags full. There were two who walked along the float and tossed out the candy.

Here are a few images from the parade.

One popular thing that people like to do as a fund raiser is a little game called "Ewe-Do-Bingo." You place a bet on which box the ewe or sheep will poop in. I missed the actual bingo event but here is a photo of where you could place your bet and of the grid where the sheep is brought in to poop.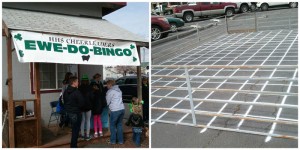 I think there were some other things going on around town. I never saw a full schedule. However we had other things to move on to. Our friends were branding their calves today and we wanted to get there before they were done. I had posted on Facebook "Busy day in hickville. 5k walk. Then ride in parade. Maybe some cattle branding later." Some of my East Coast friends thought that I was joking, I wasn't. Here are some photos from the branding. The kids each got to shave and brand a cow. And as a bonus my niece got to shave and brand one too.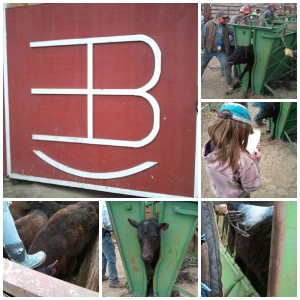 I also took a video. I edited it down but you should not watch if you do not want to honestly see what happens when a calf gets branded. It is a necessary evil and does not last long. Branding has been done for hundreds of year. The calves are also vaccinated while they are in the chute.
After the branding we were all treated to a very tasty dinner and great conversation. Someone mentioned how nice a hot would be when they got home. That idea stuck with me so that's what I did when I got home. The end of a long but very fun and memorable small town Saturday.