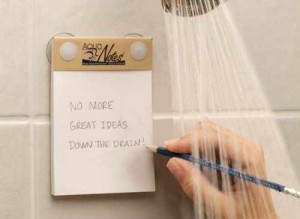 Last month I wrote about how all of my best ideas often come to me while I am in the shower– a little TMI , I know. (TMI means too much information, mom-hehe) Well I am thrilled to tell you that the problem has been solved!
And in a pleasant twist of fate, the arrival of the solution has saved you, my loyal reader, a dull blog post all about how the town is doing a study on possibly putting in a town-wide sewer system.
So while I had thought I would be spending this time drafting a riveting post about the exciting topic of creating a wetland for the disposal of sewage gray water I am actually writing about the wonderful surprise I received in the mail.
A week or so ago I suggested on Facebook to my friend Robyn that she enjoy my blog while she was trapped inside her home, snow bound. I wondered if she had actually read it. Well I can wonder no more.
On my way home from a lengthy town meeting on the topic of a possible sewer system I stopped to pick up my mail. Well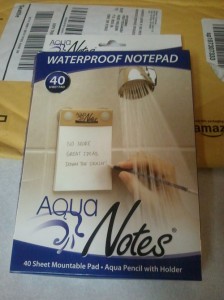 technically my sister stopped so I could get my mail because she drove. Anyway, there was a padded envelope from Amazon.com in my box. I wasn't expecting anything so I naturally checked to make sure the envelope had my name and address on it.
I climbed back in the car and showed my sister the mystery package. She turned on the light in the car so we could see what what inside. I ripped it open and pulled out a box that says Aqua Notes- Waterproof Notepad. I laughed! Who read my blog post and sought to solve my problem??
Inside the package was a thoughtful note-
Heidi, use this so you never have another good idea go down the drain. Hope you are enjoying your rural life. We miss seeing you at this end of the universe. Robyn
So thank you Robyn! I wonder which little bird gave you my mailing address… I truly appreciate the sentiment and thoughtful gesture. I too miss all of my East Coast friends. I will be sure to write a follow up post to let everyone know how well these work!